Press Release:
Flasheye is one of the selected companies in the iconic 33 list
2023-11-16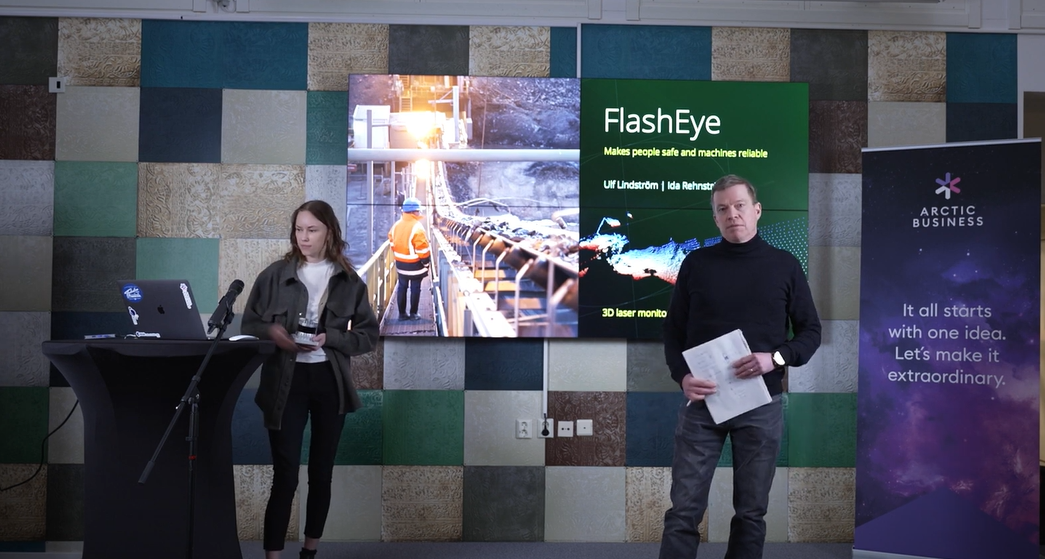 Photo: Ida Rehnström and Ulf Lindström at the first pitch after the pandemic.
It all starts with one idea.
Flasheye, founded 2019 in Kiruna, has been named among the group of 33 young Swedish companies recognized for their high potential to emerge as future growth companies. The list, curated by Ny Teknik, acknowledges companies that exhibit innovation, possess scalable business models, and demonstrate the capability for rapid expansion in both the Swedish and global markets.
This recognition serves as a testament to Flasheye's commitment to innovation and making state-of-the-art technology available for more people, on a larger scale. 
We are continuing to make lidar standardized, easy and accessible to solve all kinds of industrial and security problems.
John Carlson, CTO
About Flasheye 
Flasheye is a leader in lidar software for infrastructure, specializes in making advanced 3D data into invaluable insights across various industries. Their agnostic approach and support for multiple brands of hardware and platforms enable us to enhance automation, safety, and operational efficiency. 
Learn more about Flasheye at flasheye.se. 
About the 33 list 
The list includes 33 selected young Swedish companies with high potential to become future growth companies. The companies chosen are assessed to be innovative, have scalable business models, and have the potential to grow rapidly in the Swedish and global markets. The list is an important recognition for the selected companies and can help increase their visibility and attractiveness to investors, customers, and partners.
Learn more here: 33 listan.
For media inquiries, please contact:
Flasheye:
Ida Rehnström, COO
ida@flasheye.se